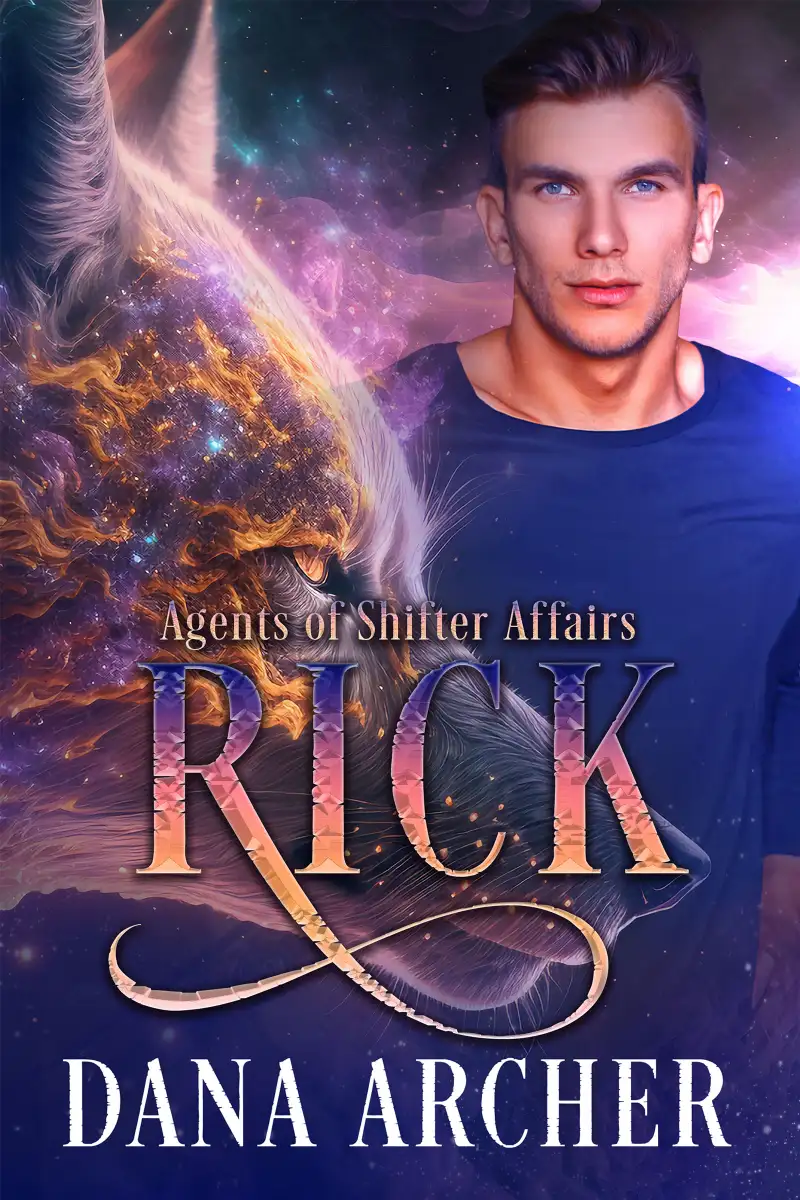 The author may earn a small commission from affiliate links in use on this page.
Rick
Bookstore | Shifter World | Agents of Shifter Affairs
When a mysterious lone wolf enters her life, one woman is forced to confront her dark past.
Shunned from her pack and left to raise her children alone, Mya thought nothing could make her life harder.
But when the monster who killed her human family returns to demand her son, she turns to Rick, a brooding shifter detective, for help.
Never could she have predicted the mutual attraction that sparks between them, nor the secrets he holds that could change her life forever. With her future on the line, will Mya have the courage to face the truth?
GET YOUR COPY — to find out if Rick and Mya's love story ends with the laws of the land or the will of the gods prevailing. With overprotective friends, small town drama, dangerous liaisons, and jaw-dropping revelations, you'll be captivated by this thrilling introduction into a world where love is powerful, danger lurks around every corner, and mesmerizing shifters will risk it all to claim their fated mates.
eBook
Paperback
Hardback
Preview

A slow, lazy, and incredibly sexy smile spreads over his rugged face. "You're absolutely beautiful with your guard down."

"Rick." I say his name, but my voice doesn't sound like me. It's huskier or something. I almost sound sexy. Must be the naughty thoughts whirling around in my head.

Rick pushes to his feet. His muscles flex. The tight gray T-shirt stretched over his chest clings to his body. Jeans cover his legs. Not tight, not loose, his pants fit him perfectly, drawing my gaze to his strong thighs, his narrow hips, his…

Oh goddesses…

---

"You walked into my life when I was at the lowest point I've been in years." Rick settles a hand on my hip. "And pulled me back from the brink."

My skin burns as if his touch branded me. I don't understand my reaction to him. "I…I…"

Rick rubs the thumb of his free hand over my lower lip, tugging slightly on the center, before dropping his hand. "You saved me from myself, from the lying voices in my head. I'll never forget that."

I swipe my tongue over the path his thumb took. I swear I can taste him. I press my palm to his stomach, unsure if I want to push him away or pull him closer.

"Rick…"

---

All shifters grow up hearing the stories of a love so pure and right, it transcends time. It's a gift from the goddesses themselves, something to be fought for and treasured. It's why the goddesses allowed shifters the ability to soul-bond, so true mates could tie their souls together for eternity.

---

"I'm not pack, not really. We're only friends."

There's nobody close to us, but Ilan lowers his voice anyway. "My wolves have claimed you as their little sister. There's no fighting them on it. They're the most stubborn set of animals any shifter was born with, and they don't like seeing you sad. It makes them angry, and do you know what three dominant and slightly crazed wolves do when they're angry?"

"They lash out."

---

"What about you, Mya? Will you deny the gift the goddesses have given you? Take the easy path." I let Mya see the challenge in my eyes. This might backfire completely, but I can't let Mya slip away after she admitted to feeling our connection. That's what a male does for his true mate. He fights for her.

---

"You're mine. Our goddesses have deemed it so." Rick steps so close to me, my breasts press into his hard chest with every breath I take. "That means everything that belongs to you is mine. Your heart. Your soul. Your body. Your children."

Rick turns my face toward his. The rawness in his gaze makes him look wild, like a primitive male ruled by his instincts. "And I am yours. No female will come before you. Not in this lifetime. Not in the next. Not in the one after that. I'll chase your soul through the centuries. Follow you anywhere. Nothing will keep me from you, and I'll never stop fighting for you. For ;us. This is my vow, Mya Ammon."

"You don't know me." I sound ungrateful. Rick just offered me everything I've ever dreamed about. He's also my true mate. I don't doubt our connection or the mystical beauty behind it. I've seen with my own eyes how powerful it can be. It's just that…
Additional Details

Genre: Paranormal Romance – Werewolves & Shifters, Supernatural Thrillers & Suspense

Story Elements: Fated Mates/True Mates, Second Chance Romance, Murder Mystery, Secrets, Impossible Love, Forbidden Romance

Book Length: Novel Plus: 70,000-90,000 words

Heat Level: 2/5

Main Characters: Rick (lone wolf), Mya Ammon (lone wolf – banished)
Alternate Version

Rescued by Nancy Corrigan

Same great story with open-door romance and uncensored language.

Learn More
What readers are saying…
Would have given it ten stars. Absolutely Amazing. — Melvena A.
Gripping and heartfelt. — Aya A.
If you like paranormal, shifters, and a good mystery this book is worth the read. — Frankie
PLOT TWIST!!! I stayed engaged from beginning to end. — L. Nunn
This book was emotional, action packed, and just plain perfect. — Tina – BookALicious Babes
Nobody does paranormal romance suspense like Nancy Corrigan. Her worlds are rich in detail, full of intrigue and leave you feeling good. — Tiger's Eye
If you enjoy an excellently written steamy shifter story, this one's for you! — Elise V.
Seriously wow! This book has it all! I absolutely could not put it down! — Beth
A complicated world, a complicated romance, and the thriller portion getting enough attention so it isn't an add-on. A good story. — Erin
I liked the way that the story flowed. I was on edge trying to solve the mystery of the shifter's death while seeing if Rick will get his woman. — GWH
Keeps you turning the pages. — ADP
Could not put the book down! So much action in the read. — Sher
Definitely recommend it if you are into the world of shifters. — Miri
This was a great story of love and second chances. — Sara