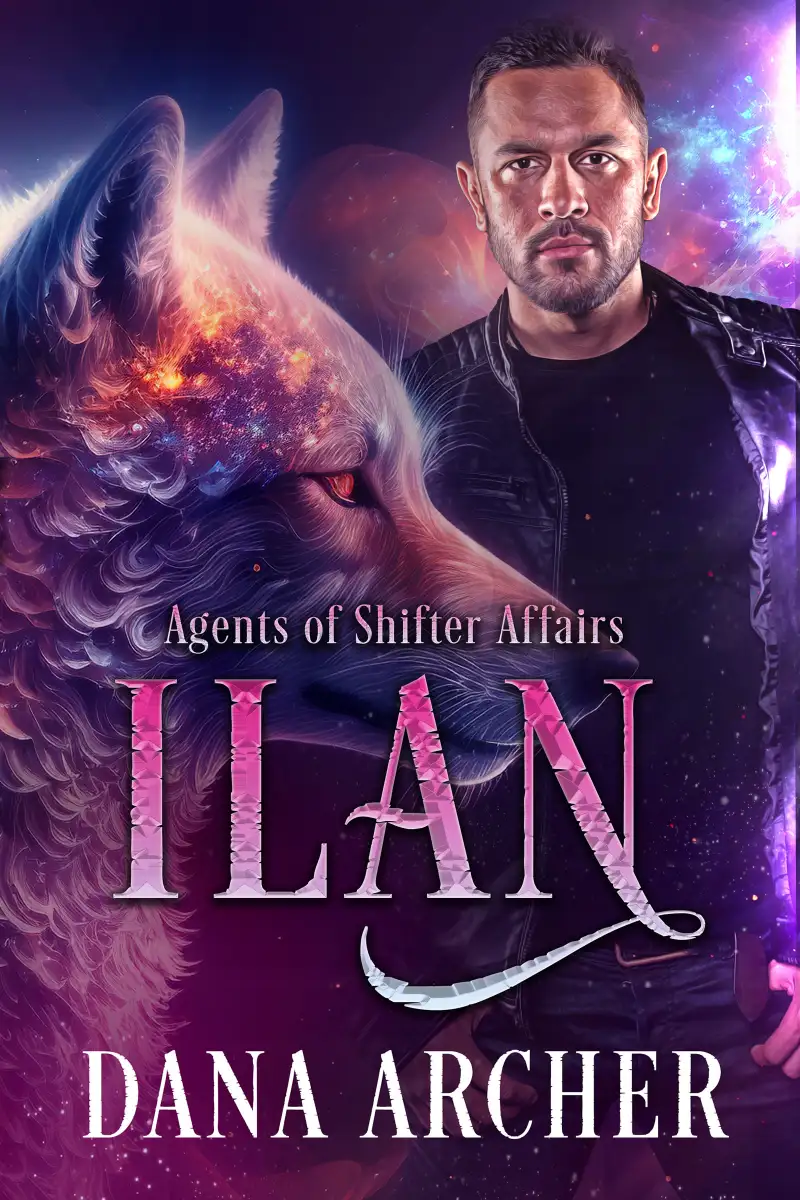 The author may earn a small commission from affiliate links in use on this page.
Ilan
Bookstore | Shifter World | Agents of Shifter Affairs
When one woman's heroic act of saving a baby wolf shifter turns her into prey, her fate rests in the hands of a man called Death.
Sara never dreamed that saving a newborn with wolf eyes would bring her the attention of a rogue bounty hunter.
As the threats of danger increase, the only thing standing between her and certain death is her mysterious co-worker, Ilan.
Sara soon finds herself falling for her fierce protector, but Ilan's past is shrouded in darkness, betrayal, and lies.
With hidden secrets, shocking revelations, and the weight of their destiny at every turn, will Sara and Ilan's relationship survive? Or will Ilan's twisted sins prove too much for them both?
GET YOUR COPY — to find out if Ilan and Sara can turn the hit man hunting them into their prey. With the line between right and wrong blurred, a bunch of rough men known as Angels of Death, an overprotective adoptive father, small town drama, and blood oaths, you'll be captivated by this thrilling fast-paced paranormal romance that will keep you on the edge of your seat until the very last action-packed and emotionally charged page.
eBook
Paperback
Hardback
Preview

An arm hooks around my waist and yanks me against a solid chest. I scream. My cry's cut off with a large palm over my mouth.

The scent of pine and man surrounds me.

Ilan.

He's the wolf. He's the one who killed that lion. He's the one who saved us.

He's also not human.

Ilan crowds me against the side of the car and brushes his cheek against mine before pressing his lips to my ear. "If you want to live, Sara, you won't tell anyone what you witnessed tonight."

---

"Why, Ilan?"

Sara's voice trembles, and the stench of her fear thickens the air around us. I want to cradle her against my chest and tell her everything's going to be okay. I'd be lying if I did. I need to get away from this human. That's the only thing that'll save us both.

No freakin' chance of that happening. Not now.

Stepping back, I give her plenty of space and hold out my hand. "Give me your keys."

"Oh my." Sara's gray eyes turn into saucers. She drags her gaze over my naked body, lingering on my flaccid dick, before focusing on my face. She inhales sharply. "You're naked."

Shifting had that unfortunate consequence. I can't even put my clothes back on. They're in a tattered pile near the side of my house, along with my sunglasses. I need them around humans. People tend to freak when they see my eyes, but Sara's not screaming at the sight of my inhuman eyes. It is dark out, though. Maybe she hasn't noticed them. She is only human with all the frailties that come with it. Poor nighttime vision is one of them.

"Yep. I like to dance naked under the light of the moon." I wiggle my fingers. "Now give me your keys."
Additional Details

Genre: Paranormal Romance – Werewolves & Shifters, Supernatural Thrillers & Suspense

Story Elements: Fated Mates/True Mates, Vigilante Romance, Murder Mystery, Secrets, Impossible Love, Forbidden Romance, Betrayal

Book Length: Novel Super Plus: 90,000+ words

Heat Level: 2/5

Main Characters: Ilan (Royal Kane Pack), Sarah (human waitress at the Black Widow)
Alternate Version

Claimed by Nancy Corrigan

Same great story with open-door romance and uncensored language.

Learn More